Patrick P. Lee, Founder and Chairman
Childhood and Schooling
Patrick P. Lee was born in Virginia in 1938. At four months old, Lee was taken to Paris by his mother, Helen, to meet his grandparents. While living in Paris, WWII started. As the war progressed, Lee's family became concerned for his safety. His grandparents moved Lee from Paris to a small village close to Orleans. It was not until December 1945 that Lee and his mother returned to the United States, where they settled on a farm in Omaha, Nebraska.
Lee spent his early childhood helping with chores and caring for the animals on the farm. His mother valued education and raised Lee to be independent. At a young age, he demonstrated an aptitude for problem solving and would often amuse himself by creating inventions to address everyday problems. One of his earliest inventions was a card shuffler made of household products. Although it was not very effective, it challenged Lee to strive for better outcomes and not accept failure.
Lee attended Creighton Preparatory High School, a Jesuit school for young men. He appreciated the Jesuit values and excelled at mathematics. In 1956, he graduated and prepared to enter college. Given Lee's interest in math and problem solving, engineering seemed a natural choice for his major. At the advice of his high school principal, Lee applied and was accepted to Parks College of Engineering, Aviation and Technology (now part of St. Louis University).
Since Lee's father fought and died in WWII, Lee qualified for the War Orphan's Educational Assistance program. This financial support was critical for Lee to obtain his degree. It created a desire in Lee to provide similar educational opportunities to others ultimately impacting the philanthropic direction of his foundation.
Before graduating from Parks College in 1959, Lee met and married Nancy Jackson. They would eventually have four children - Barbara, the late Patrick W., Jennifer and Christopher.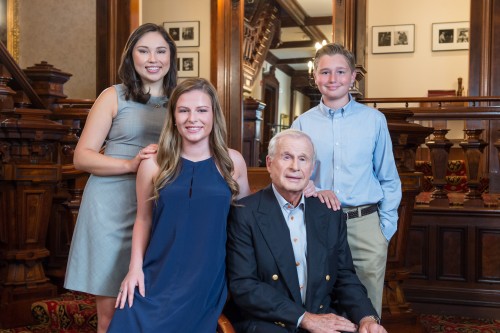 Lee pictured with his grandchildren - Elizabeth, Kelly and Johnathan (2017)
Professional Career
Lee's first job out of college was at McDonnell Aircraft. After working less than one year, the company announced that all engineers with less than two years of service were to be laid off. With a growing family to support, Lee decided to accept a position with a small company in Buffalo. He started as an engineer and within four years was the Vice President of Sales.
Driven to start his own business, Lee purchased a machine shop where he designed new hydraulic products. In 1966, he founded Enidine Incorporated. Under Lee's leadership, it grew to be one of the premier companies manufacturing shock absorption and vibration isolation products. Through the years, other companies with synergistic product lines were acquired and in 1996 a holding company, International Motion Control, Inc. (IMC), was formed.
IMC grew into a worldwide conglomerate with manufacturing facilities located in the United States, China, France, Germany, Japan, Korea and United Kingdom with a network of over 300 independent distributors. In 2007, Lee sold IMC and utilized part of the proceeds to establish the Patrick P. Lee Foundation, a private family foundation.
Philanthropy and Community Involvement
Lee's experience with philanthropy started early when he lived in Paris. He and his grandmother would attend mass each morning and on their way home they would often pass individuals asking for charity. His grandmother always gave each person a few coins. When Lee asked why she was doing this since their family had little money, his grandmother explained that they had more than most. She told Lee even the little she could give might be a tremendous help to someone.
Lee has always believed in the importance of philanthropy and giving back to his community. In his career, he has served on many boards and supported a wide array of charitable causes. Lee's most renowned volunteer position was serving as the first chairman of the board of directors at Roswell Park Cancer Institute, when it had just transitioned to a public-benefit corporation.
In 2005, in recognition of his professional and philanthropic achievements, Lee was awarded Philanthropist of Year by the Association of Fundraising Professionals of the Western New York Chapter. In 2012, Lee was inducted into St. Louis University's Smurfit-Stone Entrepreneurial Alumni Hall of Fame and later received the school's Alumni Merit Award.
In 2013, the Horatio Alger Association of Distinguished Americans awarded Lee the prestigious Horatio Alger Award. This recognition is given to individuals who demonstrate personal initiative and perseverance, leadership and commitment to excellence, belief in the free-enterprise system and the importance of higher education, community service, and the vision and determination to achieve a better future.
To learn more about Patrick Lee, watch the video below.